As dental professionals we believe in preventative dental care and encourage our patients to bring their children to the practice from an early age. Regular check-ups from a young age will ensure children won't suffer from untreated dental decay with devastating effects to their growing dentition. There are a number of preventative treatments that our team can provide for children.
Fluoride applications are a safe and effective way to safeguard your growing child's teeth from developing decay. The fluoride is painted onto the surface of the child's teeth and this helps to mineralize the teeth. Fissure sealants are tooth colored and applied to biting surfaces of children's teeth to prevent decay.
Studies have shown that the younger the age that you bring your child to the dental practice, even if just for a check-up, the more likely they are to have a positive experience and grow up not to be afraid of the dentist. Our team will take special care of your child to make them feel safe and cared for.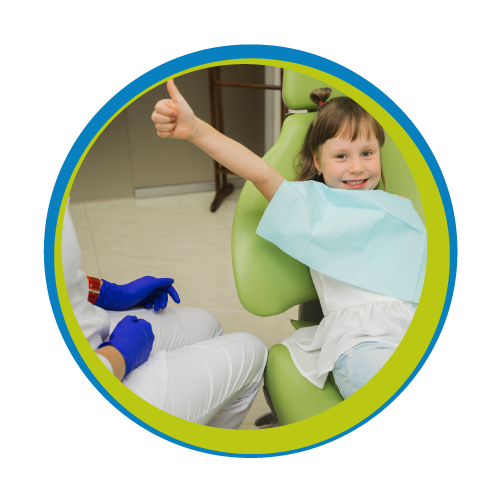 Treating a child from an early age also allows the dentist to spot early signs of underbites, cross bites or overbites developing. As with most things, the sooner you can start to treat it, the quicker it can be resolved.
How Often Should
Children Have Dental
Checkups?
It is recommended parents to make biannual dental appointments for children, beginning approximately
six months after the first tooth emerges. These two important yearly visits allow the dentist to monitor new developments in the child's mouth, evaluate changes in the condition of teeth and gums, and continue to advise parents on good oral care strategies.
The dentist may schedule additional visits for children who are particularly susceptible to tooth decay or who show early signs of orthodontic problems. The condition of a child's teeth can change fairly rapidly. Even if the child's teeth were evaluated as healthy just six months prior, changes in diet or oral habits (for example, thumb sucking) can quickly render them vulnerable to decay or misalignment.
The dental experience begins when you step in the door with friendly and bright interiors that will keep your spirits up. Our clinical areas have taken into consideration that the dentist's chair may be a challenging setting for children (and even adults). With that in mind, our centers have been designed to create an inviting environment.
With extensive experience in child dental care, we go to great measures to ensure that your child's experience at the dentist is as pleasant as possible. Prevention is always better than cure so call the practice today to make an appointment for your child.
© Copyright Andina Dental Health I © 2020 ALL RIGHTS RESERVED​​